When I try to let go of all these feelings inside.. When I sing, my throat keeps tightening up and it's sounds horrible and I feel like I can't do anything. So far I tried to write but it's all bullshit. Here is some fucking bpd jokes just for the ones who know what I'm talking about, 'cause they work like me.
So my brain decided to come back out of my obsessive illusion, this alter that I could hide behind. The strong one. Now I'm back and even haven't recovered from all that and already my mind already decided on it… 
Me: Hey bpd what do you have there?
Bpd: a new fp!!!
Me: NO
Yep, definitely back to being me, whatever the hell that is… Here we go again.. *sigh* 
So, naturally I am spacing my brains out with every tiny miniscule trigger there can possibly be.. and if not then: 
Me: wow things are going great!!
Brain: trigger yourself
Me: but- 
Brain: do it
Yes, I have a mind that works against me. Let's keep it positive.. it is never boring.
Them: Wow, you're playing that doll part really well!!!
Me: I'm dissociating
Me: also I'm dead inside
Me: thanks 🙂
Opening up to loved ones… or fp… (Fuuuuuuuuck……) I mean although I'm spacing my brains out it still seems to go all weird and crazy about someone and I'm just one tiny toe into being open and letting love in and showing my feelings like this tiny bit but you know it's too much already so my mind is like, RUN!! Now 😀 Here are your options:
a: SPLIT
b: Suicide
c: D i s s o c i a t e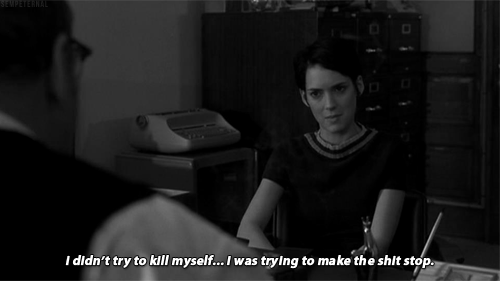 Why do people insist for me to put my guard down for them but then once I do leave me? My trust issues only keep becoming more valid.
Lalala, okay another thing. I'm like so fucking close to quiting some social media platforms.. Oh my god! But I think that the quality of my content won't get any better if I keep being like this. So much easier to just live through alters, alone.
You.Are.Leaving.Me… Again.
You hold the answers deep within your own mind
Consciously, you've forgotten it
That's the way the human mind works:
Whenever something is too unpleasant, too shameful for us
To entertain, we reject it
We erase it from our memories
But the imprint is always there
Can't wash it all away
Can't Wish it all away
Can't hope it all away
Can't cry it all away
The pain that grips you
The fear that binds you
Releases life in me
In our mutual
Shame we hide our eyes
To blind them from the truth
That finds a way from who we are
Please don't be afraid
When the darkness fades away
The dawn will break the silence
Screaming in our hearts
My love for you still grows
This I do for you
Before I try to fight the truth my final time
We're supposed to try and be real
And when you feel alone, when we are not together
And that is real
Can't wash it all away
Can't wish it all away
Can't cry it all away
Can't scratch it all away
Lying beside you
Listening to you breathe
The life that flows inside of you
Burns inside of me
Hold and speak to me
Of love without a sound
Tell me you will live through this
And I will die for you
Cast me not away
Say you'll be with me
For I know I cannot
Bear it all alone
You're not alone, honey
Never… Never
Can't fight it all away
Can't hope it all away
Can't scream it all away
It just won't fade away, no
Can't wash it all away
Can't wish it all away
Can't cry it all away
Can't scratch it all away
Can't fight it all away
Can't hope it all away
Can't scream it all away
Ooh, it all away
Ooh, it all away
But the imprint is always there. Nothing is ever really forgotten

God, please don't hate me
Because I'll die if you do
Because I'll die if you do
Because I'll die if you do
Because I'll die if you do